Application form - Game Master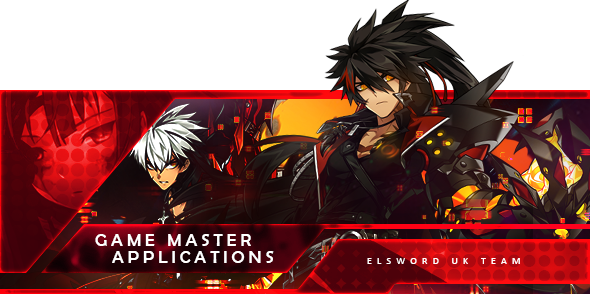 Become a part of the game team, join the Game Masters!
The Elsword UK support team is looking for new Game Masters to support the community by helping our players and enforcing the rules! Due to this, in order to be considered for this position you are required to have a good understanding of the game and how it works.
Playing the game whilst in the team
Your identity as a player is completely separated from your identity as a Game Master and you can still play Elsword regularly with your personal account as a normal player.
Requirements to join the team
:
Due to legal reasons, be at least 18 years old and being able and willing to sign a legal document.
At least 3h per day for team duties
Writing English on a good level is a must.
A good understanding of how Elsword works and the rules.
Accepting positive feedback and criticism from other members of the team, while being able to successfully being part of it.
Being able to use IRC and Discord.
If you meet all the requirements mentioned above, congratulations! You might be the kind of person we would like to join our Team!
Additional information
:
After sending your application you will be informed by e-mail about our decision and if needed you will receive further instructions.
Depending on the situation a reply might take more or less, give us up to a week to reply.
Applications that don't include

ALL the information requested

or is filled with fake information might be declined.
We are sure everyone knows them by heart already but make sure you know and understand our Forum and Game rules, also taking a peek at our Safety Guide of game accounts wont hurt you either.
If you are still interested, we're looking forward to receiving your application!
BEWARE

: Everything application-wise will be handled via emails and this very same application, therefore, you should use a real email to which you can access to since a verification email (as well as our replies) will be done via that method.
Regards,
The Elsword UK Team.
Applications closed! You will not be able to send the application!